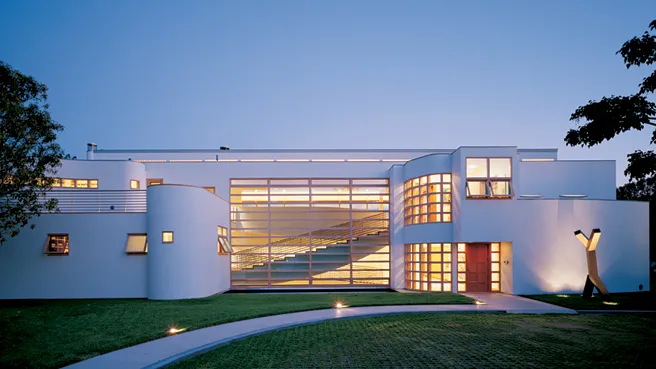 Well, if you're planning a trip across the pond, I can Malibu architects a one-of-a-kind beach house on the English seaside that's a cool contemporary alternative to any standard B&B or local accommodation.
At the Dune House, which 'floats' on the sand dunes on a beach near Thorpeness on England's east coast, you'll wake up in angular, light-filled space designed by a world-class architect.
The Dune House is one of five houses commissioned for a project called "Living Architecture," a group in the U.K. that offers 21st century holidays in modern works of architecture.
Designed by some of Europe's leading architects, the buildings are deliberately experimental and are intended to enhance people's appreciation of modern architecture, while offering a novel vacation experience. They can be rented for a weekend or a few weeks.
I have visited two of these funky holiday spots, The Dune House and The Balancing Barn, a gleaming 100-foot long aluminum-clad building that cantilevers over the edge of a hillside in Suffolk (which I wrote about in a previous blog post).
The Dune House, a stunning reinterpretation of a beach dwelling, is a conversation piece on the shore where it stands out among much more traditional seaside homes. Designed by Norwegian firm Jarmund/Vigsnaes Architects, its striking asymmetrical roof, clad in tinted orange steel alloy, reflects the changing colour of the sea and sky. The panoramic views on the ground floor offer spectacular views of the North Sea, and you can walk out straight from the living room on to the beach.
Upstairs, each loft-like bedroom has a bathtub in it, with windows carefully positioned so you can bathe while taking in the views of the sea and surrounding meadows. There's even a small library and roof terrace. English charm meets Norwegian imagination.
So if you are in the U.K. looking for a unique seaside holiday, the Dune House is open for bookings and can accommodate up to nine people.
In addition to the Dune House and the Balancing Barn, both in Suffolk, a third Living Architecture holiday home, called the Shingle House, is ready to rent on Dungeness beach in Kent. The Shingle House is a simple, black house finished in traditional tarred shingles on the exterior with a light, very modern timber interior. Designed to reflect the geography and old fishing communities of Dungeness, it's located on a quiet, somewhat isolated part of the southeast coast.My philosophy of writing, and all art, echoes Gaboury's belief about architecture: "The essence of architecture is space structured for human beings, but the ultimate goal is symbolic, metaphoric or spiritual, like any other art form. The difference with architecture is that it links art with the practical."